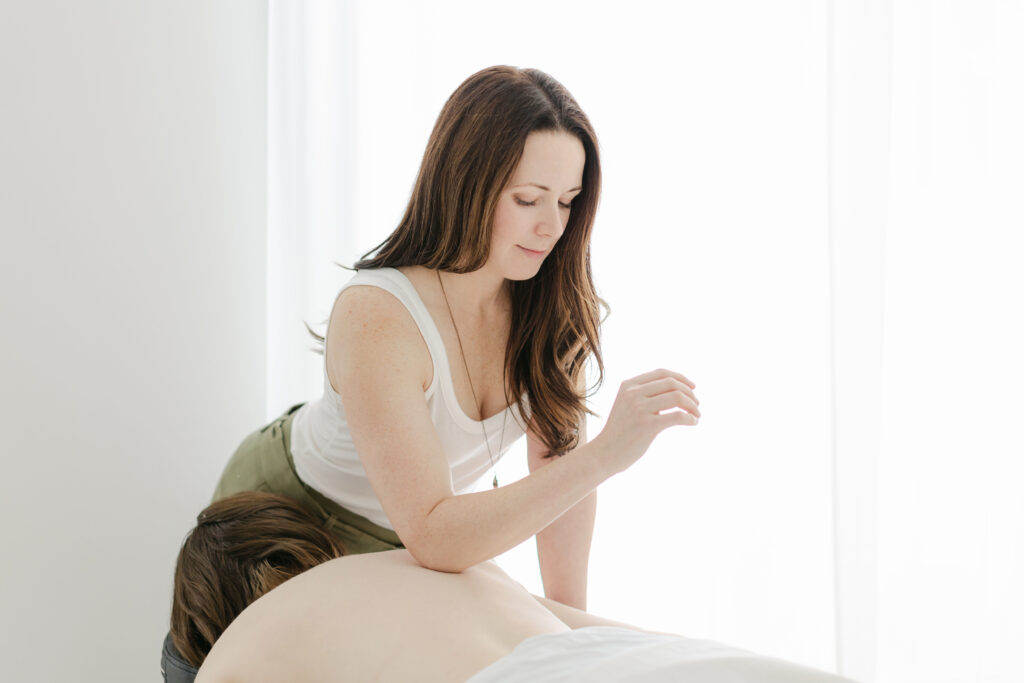 The Calm Therapeutic Centre is a beautiful wellness centre located in Woodstock, Ontario specializing in Registered Massage Therapy, Lymphatic Massage/Lymphedema Management, Cosmetic Surgery Aftercare, and a variety of other manual therapy modalities.
Our therapists are passionate about helping you feel the best you can in your body. Whether you are looking to rehab that nagging injury, reduce the frequency of headaches, or you just want an hour to turn off your brain, we have the solution you've been looking for.
Massage Therapy
Each massage therapy session is fully customized just to suit you. We will discuss your goals prior to your treatment, and work together to develop a treatment approach using a combination of the modalities listed below.
For those who are claiming treatments through extended health benefits, the majority of treatments provided at The Calm Therapeutic Centre are billable as "massage therapy." A receipt will be provided to you after treatment.
If you are feeling overwhelmed and are unsure of which treatment or therapist is the best choice for you, give the office a call. We will do a free consultation to determine which one of our therapists is best suited to help you achieve your goals.
A typical session will involve a variety of massage techniques that may include Swedish massage, trigger point therapy, stretching, myofascial release and lymphatic drainage.
Depth of pressure is adjusted to meet your individual needs and preferences.
Massage is great for stress reduction, relaxation and pain relief. Our goal is to find the best treatment that will get you back doing the things you love.
Not sure how long to book?  Here's a quick guide to determine the best length of time for your treatment.
| | |
| --- | --- |
| 30-45 minutes | Spot treatments/1-2 areas of concern |
| 60-75 minutes | Enough time to get a great massage |
| 90-120 min | Life Changing! Best for full body treatments |
Some specific treatments we offer include the following;
Lymph Drainage Massage
This may be our most calming treatment of all!
Manual Lymph Drainage (MLD) is nothing like a "regular massage." It is a very gentle, non-invasive, hands-on technique that improves the activity of the lymphatic system via mild skin stretch.
There are many benefits of Lymph Drainage massage.  It is incredibly calming and relaxing, and great for your overall wellbeing.
The gentle touch of MLD works by decreasing your body's stress response.  This makes it a great technique to help with symptoms of fibromyalgia/chronic fatigue, sinus pain, headaches and migraines, insomnia, anxiety and pain.
It is very beneficial both before and after surgery. MLD will promote tissue regeneration as well as healthy and minimal scar formation. It will also help address swelling and fluid accumulation as a result of the surgery.
Pre / Post Natal Massage
Same great massage – just with more pillows!
We know your body is under a lot of stress as it creates a brand new human, and you feel it. 
Everywhere. 
Your back aches as your belly grows, your feet and ankles are beginning to swell. And you are exhausted. We get it. 
You need a good massage! 
(Please let us know that you're expecting when you book your appointment).
Pediatric Massage
These new little residents of the world may have more going on than you think!
Introducing positive touch to your little ones can be very therapeutic and beneficial for their well-being. Be it tummy troubles, sleep issues, teething pains, or boosting muscle development, massage for your baby has many advantages. 
Mercedes will work alongside you and baby to reach your goals, and teach mums and dads, ways you can treat your infant at home.
The goal is to help you so that you don't have to keep coming back (as much as we love seeing the little cuties), as a parent massaging their baby can be a good opportunity for bonding. 
We also understand that babies cannot properly consent to a massage, and we in no way want to upset them. The treatment focuses on positive touch, and if baby isn't happy then we will end the treatment and save the session for another day.
Mercedes can teach you how to perform the treatment techniques at home, and we can try again in the future.
If you have any further questions about what happens during an infant massage session, please email Mercedes at [email protected].
Hot Stone Massage
This is the treatment for you if you truly want to embrace your inner calm.
Hot stone therapy is a great treatment alternative for people who do not like deep pressure or who suffer from conditions like fibromyalgia. 
Warm stones are used by your therapist to relieve stress and tension from your body.
Indie Head Massage
With so much responsibility resting on your back; your shoulders and neck are aching.
You need relief.  
Indie Head Massage is a deeply relaxing treatment that helps to reduce stress, neck tension, headaches, eye strain and promotes lymphatic drainage (say goodbye to stuffy sinuses)!  
An IHM treatment will leave you feeling like a new person who is ready to take on the world!
Just book a regular massage therapy treatment, and let your RMT know you'd like to do IHM
Acupuncture
Stacey Geddes is our in house acupuncture practitioner. Before your treatment begins she will discuss your goals, and whether acupuncture is an appropriate treatment choice.
Thin needles are placed in various points around the body to help stimulate nerves and receptors to reduce feelings of pain and discomfort. 
While the needles are sitting, massage may be applied to other areas of the body.
Acupuncture is beneficial for many things including, generalized pain, headaches, back and neck pain, sinus pressure, stress and anxiety.
If you have any questions don't hesitate to reach out to Stacey.
Cupping Therapy
Silicone or plastic cups are used to create space between the layers of tissue in an attempt to reduce restrictions.  Your therapist may use static (not moving) techniques or dynamic (moving) strokes during your session.  
There is the possibility that you will have "cupping marks" after your treatment. Your therapist will discuss this before your treatment begins.
Cupping is a great treatment to address those stubborn spots that may not be responding to massage alone.
Fascial Stretch Therapy
Fascial Stretch Therapy is a table-based assisted stretching technique that targets the connective tissue (fascia) that surrounds your muscles, along with everything else! If this connective tissue gets tight or bound up it can cause restricted movement, limited mobility and even pain.
By targeting this tissue and loosening it up, FST is able to increase range of motion, increase mobility and decrease pain!
All sessions are tailored to the client's tolerance for stretch and current range of motion to get you the best results possible!
---
Lymphedema Management & Complete Decongestive Therapy
Living with chronic edema/lymphedema is hard. We can help make it easier.
Lymphedema is an accumulation of protein-rich fluid in the superficial tissues and is a very common and serious condition, as it can have serious consequences if left untreated.
There is no cure for lymphedema, but it can be managed with Complete Decongestive Therapy (CDT).
Lymphedema is often caused by trauma to the lymphatic system (secondary lymphedema), such as surgery, injury, scarring, infection and radiation therapy.
Post-mastectomy lymphedema of the upper extremity caused by breast cancer treatment is very common in North America.
Another cause for lymphedema is malformations of the lymphatic system (primary lymphedema). In such cases the swelling may appear after simple accidents such as sports injuries, which can suddenly overload the lymphatic system.
Complete Decongestive Therapy (CDT) is the gold standard for the treatment of lymphedema. It involves a combination of hands-on Manual Lymph Drainage treatments, taping, compression with bandaging and/or compression garments, exercise prescription, and skin care.
Lindsay will work with you over time to ensure your lymphedema stays under control, modifying your treatment plan as needed. For example, there may be times that you need to come in for more frequent visits, or use bandaging or other compression garments to help control your swelling.
CDT and bandaging protocol can be quite intense as far as time management goes, but if you want to get your swelling under control then "CDT really is the 'full-court press' you want in cases of stage 2 and stage 3 lymphedema," says Andrea Cheville, MD, associate professor of physical medicine and rehabilitation at Mayo Clinic.
"The idea is to bite the bullet and go through an intense aggressive phase to bring it under control and then work to maintain those results." http://www.breastcancer.org/treatment/lymphedema/treatments/cdt
Lindsay is also an ADP (Assistive Devices Program) authorizer. She can sign your documentation for reimbursement for compression garments. This service is not covered by OHIP.
If you have any questions regarding Manual Lymph Drainage, or Complete Decongestive Therapy, please don't hesitate to call or email Lindsay [email protected]
---
Cosmetic Surgery After Care
We know the thought of the recovery process after your procedure may seem overwhelming, which is why we strive to make the process as calming and relaxing as possible.
It is quite likely that your surgeon will recommend lymphatic massage (MLD) after your treatment. This is to ensure you get the best possible results and to accelerate the healing process. (Who wants to wait to show off their new bod)!
MLD helps by reducing swelling and inflammation after your procedure. This is a completely normal part of the recovery process, however if left untreated, there is a chance that the soft swelling can become hard, lumpy fibrotic tissue that may become permanent.
In most cases MLD should not be painful. This is a very light technique that encourages your lymphatic vessels to clear the excess fluid. You can start your treatment almost immediately after your procedure. Ideally you should book your first MLD treatment within 3-5 days of your procedure.
Every case is individual, but for ideal results you should plan on a series of 6-12 treatments. We recommend booking your appointments prior to your procedure to ensure that Lindsay can fit you into her schedule in a timely manner.
| | |
| --- | --- |
| WEEKS POST OP | NUMBER OF TREATMENTS |
| 1-3 | 1-2 sessions per week |
| 4-6 | 1 session per week |
| 6-10 | 1 session every other week |
| 10+ | Monthly Maintenance |